Brainy Bunch
KidZania
Contest Promotion
Grab a chance to win 5 Pairs of KidZania tickets Each for the lucky 20 Winners.
Kidzania Share & Win Contest
Hurry – Contest Ends 19th Jan 2020.
===================
Steps To Join The Contest
===================
1. Log In:
Log in using your email or Facebook account.
To log in just fill in your name and email.
(Please ensure that you are using a valid email for us to contact you if you are the lucky winner)
Click Continue.
2. Collect as many points/entries as possible in order to win the contest.
3. Contest period will be extended until 19th Jan 2020 – 11:59 pm.
4. Winners will be notified through email & will be announced through Brainy Bunch official Facebook at https://www.facebook.com/iAmBrainyBunch
5. The winner will be announced on 20th January 2020.
1. Each listed action comes with a different number of points/entries.
2. Just follow through the steps and complete all the actions listed.
3. The biggest entries come with action No.3 (Refer A Friend), No. 4 & No. 5 (Share Post).
4. For "Refer A Friend" action, You will need to share the link provided, with your friends and families through WhatsApp, Telegram or any platforms.
You'll receive 30 entries each time when someone clicks on your link, and log-in into the contest.
For each referral that joins in this contest, 30 entries will be added to your account.
The more referral you get, the more points/entries you'll receive.
And the higher chance for you to win the contest.
All the best 😉
"I did not know there was a Brainy Bunch school near my home and I have registered my child in another kindergarten.
I have also paid the Annual Registration fees to the school. However, I would still like to enrol my child into Brainy Bunch.
What should I do?"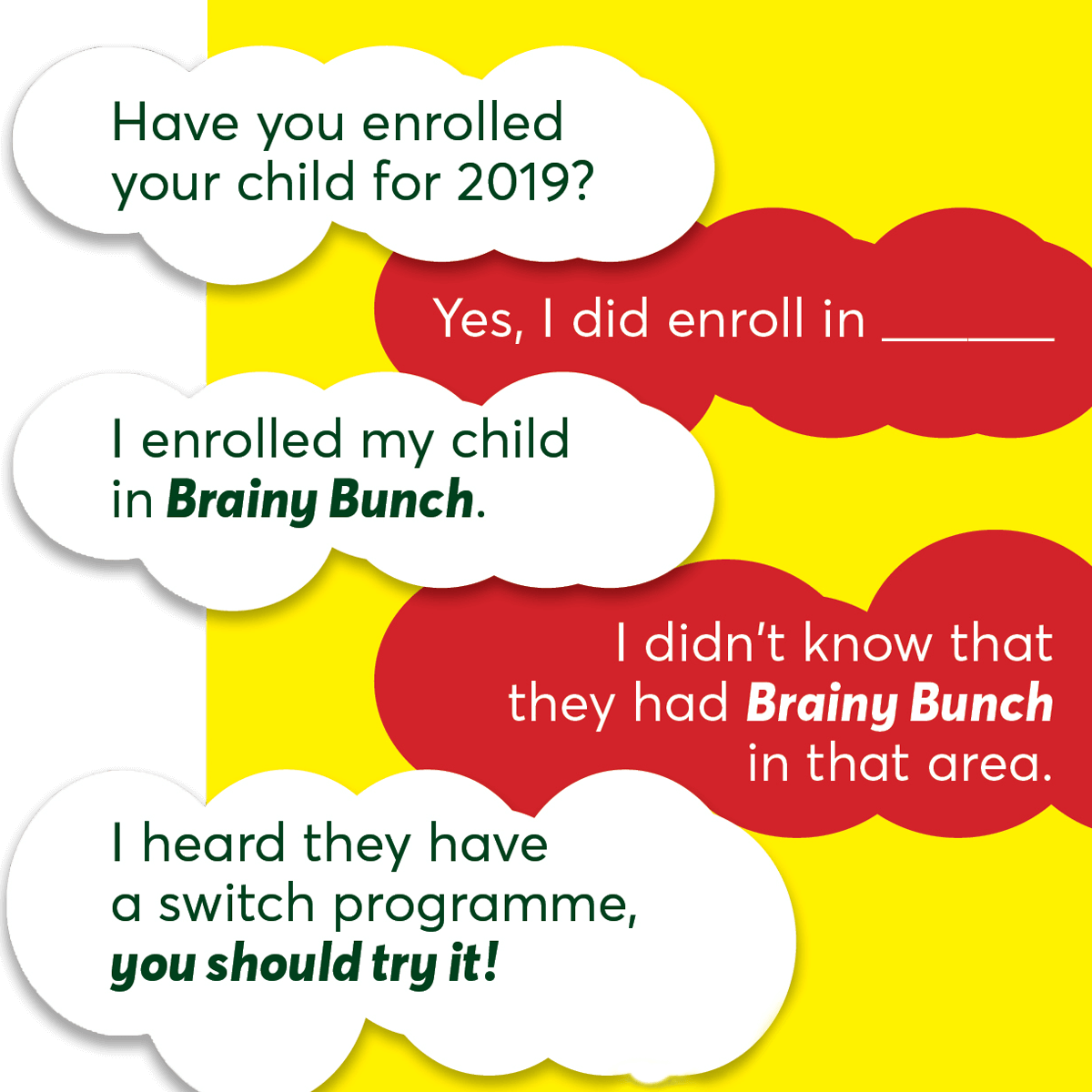 Dear parents, if you are facing a similar scenario, we have good news for you.
As a token of appreciation for your support, we would like to offer you the Switch Programme.
The Switch programme is an offer for you to switch your child from the current kindergarten to Brainy Bunch.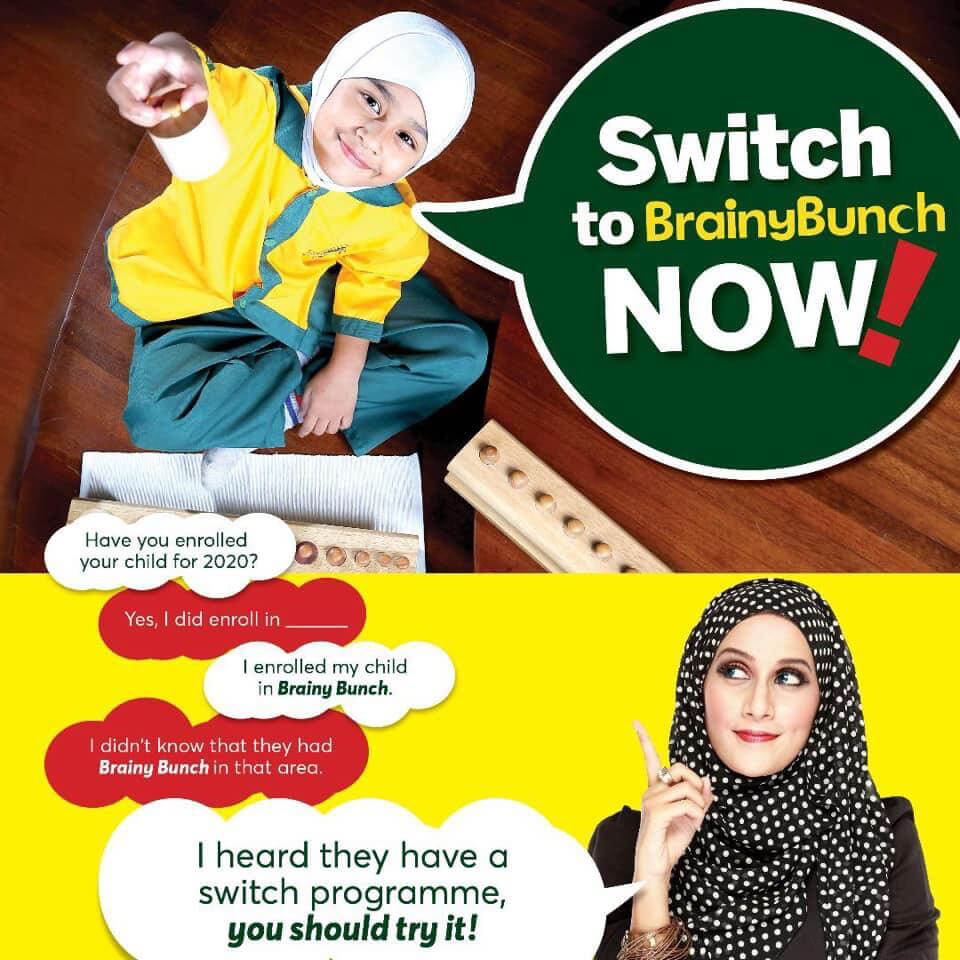 How Switch Programme Works
We will offset the Annual Registration fees when you register with Brainy Bunch. This offer is only valid when you provide us with the original receipt of payment you have made to the previous school.
Terms & Conditions:
1. Maximum deduction from the Annual Registration is RM1400.
2. Parents of children aged four and above will still need to pay RM300 for the Little Scientist Programme.
For further explanation please fill in the Inquiry Form that can be found in the campus link below.
Free Limited Edition School Bag Worth RM149.
Steps to be eligible for the free bag:
1. Choose & click the link of your preferred campus location from the list below.
2. Register your interest by doing one of the following:
2a) Fill in the Inquiry Form (can be found in the campus link); or
2b) Register for a Free Trial Class; or
2c) Contact (Call/WhatsApp) the campus phone number or walk-in for registration
3. Only new registration with full payment will be applicable to get the free bag.
4. This promotion is for limited time only.
5. The bag will be distributed to the eligible students starting from Jan 2020.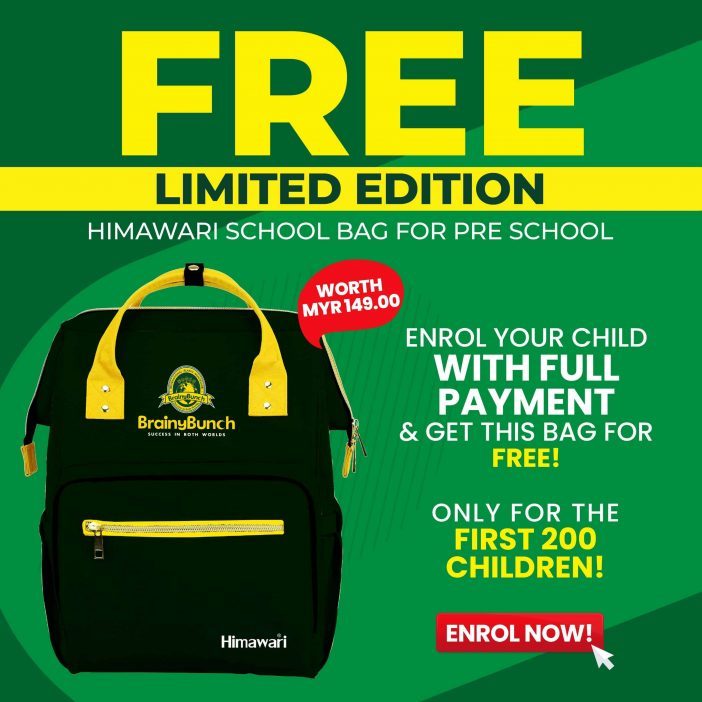 4 branches located across Singapore.
Take this opportunity to give your child a good start.